} Club Tuxedo {
(クラブタキシード)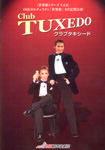 Performance Date: June 2005
Location: Sekaikan
Choreographer: Okuyama Kazuko
Cast
Daiki Makoto: Jeff *
Ouka Noboru: Tommy
Misago Mari: Isabella
Summary
A three-person show with a running time of about an hour (the DVD also has 16 minutes of practice footage and interviews with the two otokoyaku). Revue-style, with song and dance numbers, although there is a loose plot weaving it together of Jeff and Tommy being retired stage entertainers and old friends who, when meeting once more, decide to start again together.
Review
I wasn't an instant fan of Daiki Makoto, but by the end of this show I was definitely a convert. She's very entertaining to watch on stage, and seems to have a nice personality off-stage as well. Makoto and Noboru are really fun to watch together, and I particularly loved the fencing-dance number and the tuxedo tango duet.
I don't know if it's luck of the draw, or a real pattern, but there were definite similarities to "Showtime" with the characters being stage performers. And again the cool-otokoyaku-bar scene. The short talk later with Makoto and Noboru hamming it up as "cool" otokoyaku had me in giggling fits, particularly when Makoto said that she, as a dandy, would drink alone at the bar, and Noboru said she would drink alone at the bar too, and then they could drink alone together. They give each other meaningful looks and clasp arms until the musumeyaku giggles nervously and tears them apart.
I'm not quite certain why, because she's the type of musumeyaku that usually drives me up the wall, but I like Misago Mari. Just... don't let her sing.
And, finally, any show that has a skit with the bar scene from Casablanca, and an old-fashioned, goofy tap number is A+ on my list.



Main