} Dandy {
(ダンディ)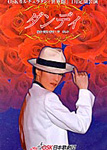 Performance Date: Jan. 2005
Location: Sekaikan
Director/Choreographer: Seri Machika
Cast
Kiryuu Asaya *
Takashiro Yuuki
Sawaka Rin
Kouya Kazuki
Katsuragi Keito
Aoto Jun
Summary
A six-person (only otokoyaku!) show with a running time of about an hour. Revue-style, with song and dance numbers, as well as a couple of skits and Kiryuu's talk with the audience regarding what they did for New Years.
Review
This was my first exposure to New OSK, but I really loved what I saw. Apparently they performed this show twice in 2005, and this DVD is from the January performance. The hall they performed in, the Sekaikan, was so tiny! The audience was sitting in folding chairs.
Anyhow, this show had some dances, a lot of talking and audience interaction, and some really cute skits. Oh, and also something vaguely resembling singing. The dancing I LOVED. The MCing I loved. The skits I loved. The singing had me turning down the volume. I'm not sure if it was that the songs just weren't good for otokoyaku voices, or if this particular cast really is not made up of singers, but there you have it. It probably didn't help that there were no onnayaku to balance out the voices. We will blank out all memory of Beatles songs.
Otherwise, I loved it! The dancing was amazing, as I'd imagine it would be when you have a cast of six. And I really enjoyed watching Kiryuu-san work the audience. The "American Graffiti" skit was hilarious, with all of Paul's (Kiryuu) friends trying to get him to stop sighing over his girl and just ask her OUT, already. Of course they all had different ideas of how he should do it, and they all volunteered to play the part of Paula so that Paul could practice. *g* Now can you see why I enjoyed this show? Ah, otokoyaku slash, you'll be the death of me.



Main